FCP Provides Grants to 14 Bucks County Non-Profits Through Partnership in Youth Services Awards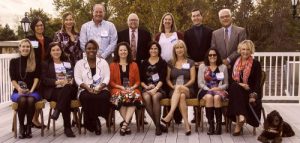 Doylestown, PA (October 22, 2014) – Over 175 community service leaders, non-profit organizations, and local governmental leaders attended the Foundations Community Partnership "Partnership in Youth Services" luncheon ceremony held at the Doylestown Country Club in Doylestown yesterday. This year the event honored 14 non-profit community programs in Bucks County that are making a difference in the lives of local children with monetary grants of $3,000 each.
The keynote speaker was Katherina Rosqueta, founding executive director of the Center for High Impact Philanthropy and adjunct faculty of the School of Social Policy & Practice at the University of Pennsylvania.
"High impact philanthropy is about doing as much good as possible with the reserves we have," said Rosqueta. "Its focus is on improving the lives of others, and is driven by a commitment to creating a positive change in the world. Foundations' Partnership in Youth Services Awards is a celebration of those who have made that commitment."
Foundations executive director Ron Bernstein, Bucks County Commissioner Diane Ellis-Marseglia and Dr. Nancy Miller of the Foundations Board presented plaques and checks to the 14 local non-profit organizations.  Among the community programs receiving grants were:
Kids of Promise Programming for Council Rock School District (Newtown)
Caron Treatment Foundation's Student Assistance Program is partnering with Council Rock School District's "Kids of Promise Program" which supports students who are struggling with the substance abuse of a caregiver or loved one. High school students who are children of alcoholics/addicts will participate in support groups and middle school students will attend an inspirational assembly facilitated by former NFL Super Bowl champion Cliff Crosby, who was the child of an addict. The program is designed to increase coping skills, reduce isolation and foster resilience among students and provide education to faculty and staff on challenges faced by children of alcoholics and addicts.
Pennsbury Manor Community and Society Events (Morrisville)
Pennsbury Manor offers popular family-based community events for people of all ages and socioeconomic levels. The grant will support Charter Day and the Halloween at Pennsbury events, which provide safe, affordable days to local families who normally could not afford the entrance fee. Lower income families may find visiting a historic site financially challenging and may have children at risk for health and behavioral issues. The grant will allow Pennsbury Manor to cultivate safe, family events.
Robert L. Leonard Foundation, Mentoring to Self Sufficiency (Newtown)
In Bucks and Montgomery Counties, there are approximately 125 young adults who are in the process of aging out of the foster care system. Their families are gone or unknown to them, and they are left to fend for themselves at 18, often unable to afford and insufficiently qualified to continue their education. They are let out into the real world to fend for themselves without any kind of support system. "Mentoring to Self Sufficiency," offers these young adults a support system with Mentors and Advisors to help them with financial planning, education, interview training, college planning, social etiquette training, education coaching, etc. Mentoring to Self Sufficiency provides the resources that will put these young adults from foster care back on a level playing field with their more privileged peers, allow them to live their own lives and raise families without government assistance.
Rolling Harvest Food Rescue "Farm to Family Initiative" (Lumberville)
Thousands of families in Bucks County struggle with finding enough food and making hard choices about how to allocate household funds that are insufficient to cover their basic needs. The quality and variety of healthy food that families receive from food pantries, shelters and soup kitchens is in short supply. The Farm to Family Initiative's team of 40 volunteers helps fill this gap by collecting donated produce and organic meat from local farm partners and distributing it to hunger-relief sites. The grant will help with delivery costs and hire an independent nutrition educator to help Bucks County families develop low-cost healthy recipes and improve their nutritional choices.
Roxy Reading Therapy Dogs "Strengthening Awareness" (Danboro)
Roxy Reading's registered pet therapy teams promote literacy in schools, deliver comfort to children navigating the court system, bring relief to young victims of violent crimes, and support to medically fragile kids residing in group homes. The grant will enable them to purchase official orange dog vests which identify professional canine companions as "Safe" to abused, neglected and fearful children in the courts, challenged children, and medically fragile children at Pedia Manor. The grant will also support an updated brochure and website, to accurately reflect pet therapy programs to parents, educators, criminal justice officials and caregivers.
The Monroe Foundation for Autism "Autism Social Skills and Music Social Skills Groups" (Bristol)
The Monroe Foundation for Autism offers social and music skills groups to promote socialization among children on various aspects on the autism spectrum. These groups provide a platform for the children to communicate with one another to discuss their feelings in a safe and comfortable environment. The goal of these skills groups is to help children gain independence, socialization skills and engage and communicate with their peers. The grant will help the Monroe Foundation for Autism offer additional classes taught by teachers who hold a Master's degree in a related field.
Child & Family Focus, Inc. "Youth Respite Volunteer Corps" (Hatboro)
Child and Family Focus provides a continuum of mental health and supportive services that enhance the quality of life and wellbeing of youth and their families. Child and Family Focus will use the grant to expand their "Youth Respite Volunteer Corps" program in an effort to serve more families in need. They currently offer Community Respite Events once a month with an average attendance of 22 children and 17 staff in 2013, which is a 51% increase over 2012. The grant will allow them to develop training programs, build relationships with three area high schools, two area universities and two area mental health programs, working with transitioned age youth to provide volunteer opportunities.
Snipes Farm and Education Center "Summer Farm Camp for Homeless and Low-Income Children" (Morrisville)
The grant will enable more homeless and low-income children to access summer camp at Snipes Farm and Education Center. The camp hopes to double the number of campers they can support in 2015 to 95 students. These children, particularly those currently homeless, have little opportunity for recreation and academically stimulating play in summer. The camp serves four children from the local homeless shelter in summer camp with no cost to their families. Children in the camp learn through hands-on activities, gain an increased knowledge of where foods come from and how eating whole foods improve our health. They also gain critical thinking skills through participation in STEM-based activities.
Unami Middle School "Empowering Youth Through Education" (Chalfont)
Unami Middle School will use the grant to plan and execute a daylong "Mental Health Fair" for 350 middle school students, addressing mental health topics, including dealing with anxiety, depression, ADHD, divorce, death, cancer in the family, navigating relationships, positive psychology, resiliency, empowerment, and developing coping skills. Their goal is to provide students with the tools and strategies to develop their own resiliency and coping skills, foster open dialogue and empower youth through education and connection.
Minding Your Mind "In-School Mental Health Education Program" (Ardmore)
Minding Your Mind provides free in-school mental health education programs designed for students, educators and school administrators in middle and high school, as well as on college campuses. Serving 10,000 children through assemblies, workshops and health classes, Minding Your Mind helps students recognize the warning signs of mental illness, and explains that mental illnesses are disorders of the brain and many are common and treatable. The program also sees to bridge the gap between physical and mental illness, reduce stigma by promoting awareness, creative a supportive environment where people can speak up and seek help for mental illness, and eliminate shame and discrimination experienced by students experiencing a mental health issue. The grant will help Minding Your Mind serve five new schools in Bucks County and complete a new community dialogue with parents, teachers and community members.
Margaret R. Grundy Library "S.M.M.A.R.T. Kids+/Science, Math, Music and Reading Together" (Bristol)
S.M.M.A.R.T. Kids+ Science, Math, Music and Reading Togetheris a preschool program designed to introduce children ages 3-5, parents and caregivers to basic science and math concepts through a library program, a family discovery center, and outreach efforts. Outreach efforts include visits with day care centers and Head Start Programs, as well as special "train the trainer" sessions for local educators. The 2,326 children who participate in S.M.M.A.R.T. Kids+ will demonstrate an interest in STEM subjects as well as develop an increased attention span, willingness to cooperate and positive social interactions with other children.
Bucks Association for Retarded Citizens (BARC) "Enhanced Therapy Initiative" (Croydon)
BARC Developmental Services will use the grant to fund a range of therapeutic supports including music, speech, occupational therapy, physical therapy and behavioral therapies to pre-school children ages 3 to 5 with special needs attending the BARC 'Friendship Circle Center" in Croydon. Through the "Enhanced Therapy Initiative", therapists work on strengthening sensory, motor, communication and adaptive behavioral skills in children with special needs. The project provides 3 hours of classroom support a week for 23 weeks and serves 50 children. Among the goals of the program are to decrease maladaptive behaviors in preschool children with special needs and see an increase in attention span in children with autism.
Churchville Nature Center "Monarch Habitat Outreach Program" (Churchville)
A recent decline in monarch butterflies calls for efforts to boost populations and spread awareness of the species' plight. The Churchville Nature Center Butterfly House, serving 3,300 children, seeks to educate the community about the butterfly's life cycle and health threats, create monarch way stations, monitor long-term trends in the monarch population and promote the program to special needs groups that will directly benefit from the therapeutic nature of handling and helping butterflies.
James A. Michener Art Museum "Crossing Boundaries: Making Art" (Doylestown)
"Crossing Boundaries: Making Art" serves 300 children at Titus Elementary School, Pennwood Middle School and Kensington Health Sciences Academy. The Michener Art Museum staff will visit the schools and lead self-identity art and poetry lessons. Students will develop intellectually while expanding creative problem-solving skills and object-based learning, develop social competence and experience personal growth. The program gives students the opportunity to explore and communicate personal and cultural identity and collaborate with students from varied communities to master skills, receive recognition, demonstrate leadership and form meaningful relationships with adult and peer mentors.
The Morris M. Davis Award is an award and $1,500 scholarship given annually to a student intern whose contributions to the community are judged to be an outstanding example. The award was presented to Feasterville resident Zachary Yingling, who worked at the Community Conservatory through Foundations Community Partnership's Summer Youth Corps and is attending Westchester College.
"Foundations is proud to offer community grants for the 16th year in a row through our Partnership in Youth Services Program," said Bernstein. "It is very rewarding to be able to support so many Bucks County non-profits that are fulfilling the health and human service needs of our young people."
Sponsors of the program included:
Platinum Sponsors
Theodora B. Betz Foundation, Bishop & Associates, Inc., Davis Trachtenberg, Inc., The Carl Koenig Family, Merrill Lynch Doylestown Office
Gold Sponsors
AXA Foundation, The Bernstein Family, William E. Boger, CPA, First Savings Banking-Insurance-Investments, Fulton Bank, Limor Goodman, PC, Magellan Behavioral Health of PA, Inc., Charles H. Rose, CLU, CHFC, Dr. Joseph Stella & Family, Tilley Fire Equipment Company
Silver Sponsors
Antheil Maslow & MacMinn LLP, Advanced Furniture Services Group, Astro Dynamic Print & Graphic Services, Bucks County Bank, Bucks County Commissioners, Bucks County College Foundation, Bucks County Herald, Catalyst Center for Nonprofit Management, Ian Rose, New Britain Developers, J. Douglas Riva, Ronald J. Smolow, Attorney At Law, Superior Woodcraft Inc., The Morabito Family, The Biersmith Family
Bronze Sponsors
Advanced Micro Computer Specialists, Inc., Boucher & James, Inc., Consulting Engineers, Brody Public Relations, CMIT Solutions, Doylestown Wealth Management, The Friedman Family, Mr. and Mrs. Thomas Hanna, In The Bag Catering, Mert & Monte's, Dr. Nancy Miller and Family, J. Carroll Molloy Realtor, Ninety-Five North Marketing, The Pasternak Family, The Present Company, LLC, Stonewall Services, LLC, Thompson Networks, David Velasco Salon, The Weldon Family, The Zagerman Family, Zateeny Loftus, LLP.
Pictured:
Back row (left to right):
Kat Rosqueta, The Center for High Impact Philanthropy; Jo Leonard, R.J. Leonard Foundation; Eric Stark, Snipes Farm and Education Center;  Dr. John Pfeiffer, BARC Developmental Services; Dana Eichert, Child & Family Focus; Zach Yingling, Morris Davis Scholarship Recipient; Ron Bernstein, Executive Director
Front row (left to right):
Christine Storm, Caron Treatment Centers; Cathy Snyder, Rolling Harvest; Tamara Monroe, Monroe Foundation for Autism; Stormy Blauth, Churchville Nature Center; Kathleen Houpert, Unami Middle School; Tabitha Dardes, The Pennsbury Society; Dana Barber, The Grundy Memorial Library; Diane Smith, Roxy Reading Therapy Dogs
Not pictured: Trish Larsen, Minding Your Mind; Ruth Anderson, The James A. Michener Art Museum
Media Contact:
Beth Brody, Brody PR
609-397-3737
beth@brodypr.com