Nonprofits Invited to Seek Funding from Foundations Community Partnership
Doylestown, PA (August 22, 2023) – Foundations Community Partnership (FCP) is now accepting applications for its Bucks Innovation & Improvement (BIIG) and Capital Improvement (CAP) fall grant cycles. Eligible nonprofits can submit a Letter of Inquiry by October 1, 2023, through FCP's web site.
"Nonprofits are an essential component in delivering essential services to the most vulnerable people in our communities," said Abigail Halloran, Chair of FCP's Board of Directors. "Supporting innovative ideas and impactful programs has been at the core of our grantmaking since 2007."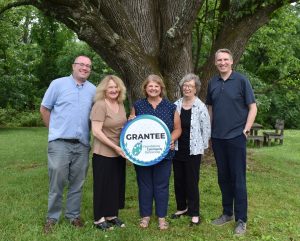 Annually, BIIG and CAP grant cycles offer $200,000 in support for innovative programs and services as well as structural facility improvements and technology upgrades that will have a positive impact on Bucks County's children, young adults, and families. For more information about these grant opportunities, visit fcpartnership.org/grants. Last spring, FCP's Board of Directors awarded 12 BIIG and six CAP grants. Collectively, these 18 non-profit recipients served 22,258 Bucks County residents by expanding services and infrastructure.
###
Photo caption: FCP's CEO Dr. Tobi Bruhn (right) presents a Bucks Innovation & Improvement Grant to Bucks County Audubon Society's Executive Director Michael Celec, Horticultural Therapy volunteer managers Nancy Minich and Joan Stelmach, and Board President Kalle Weeks (from left).
Media Contact:
Name: Tobi Bruhn, Ed.D., CFRE
Title: CEO
Phone: (267) 247-5584
E-mail: info@fcpartnership.org