FCP Launches New Spring Grant Cycle
Doylestown, PA (March 22, 2023) – Foundations Community Partnership (FCP) is now accepting applications for its new Partnership in Youth Services (PYS) spring grant cycle. Eligible nonprofits can apply for up to $6,000 by April 15, 2023. After completing a brief, online application, select applicants will be invited to discuss their project with members of FCP's Board of Directors. Preference is given to nonprofits applying to FCP for the first time and those that have not applied in the past 5 years.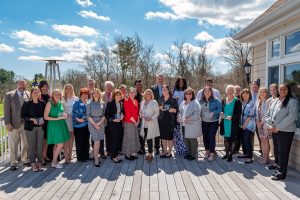 "This new grant cycle continues our tradition of recognizing and supporting nonprofits that are dedicated to helping solve community problems, and enhancing the quality of life for children, young adults, and families in Bucks County," said Abigail Halloran, Chair of FCP's Board of Directors.
Annually, the PYS grant cycle offers $60,000 in support of innovative programs and services. Last fall, FCP awarded PYS grants to 13 nonprofits. Collectively, these organizations helped address the behavioral health and human service needs of 6,224 Bucks County residents. For more information about this grant opportunity, visit fcpartnership.org/grants.
###
Photo caption: Last fall, Foundations Community Partnership's Board of Directors awarded Partnership in Youth Services grants to 13 nonprofits.
Media Contact:
Name: Tobi Bruhn, Ed.D., CFRE
Title: Executive Director
Phone: (267) 247-5584
E-mail: info@fcpartnership.org