New Board Members Appointed to Foundations Community Partnership Board of Directors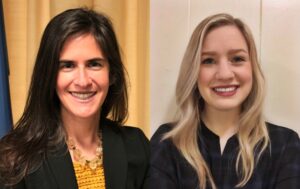 Doylestown, PA (March 25, 2021) — Foundations Community Partnership (FCP), a philanthropic grant-making foundation supporting the behavioral health and human service needs of children and young adults in Bucks County, has announced the appointment of Morgan Q. Bryan, MS and Rachael Neff, LSW as new board members. Their terms run through 2023.
Morgan serves as the Development Coordinator for the Travis Manion Foundation. She earned an MS in Nonprofit Leadership from the University of Pennsylvania and was a Summer Youth Corps participant in 2016. Foundations Community Partnership's Summer Youth Corps is a service learning internship that blends student work at non-profit human service agencies with community service and academic study.
Rachael serves as the Human Services Director for the County of Bucks. She was formerly the Director of Special Court Programs in the State of Delaware Family Court, and she previously served as Director of Quality Improvement & Compliance at the Mental Health Association of Pennsylvania. Rachael earned her Master of Social Work degree from the University of Pennsylvania and is a Licensed Social Worker in Pennsylvania.
"It is a pleasure to welcome Morgan and Rachael to the FCP Board of Directors," says Tom Hanna, FCP Chairman of the Board. "Their expertise and knowledge of the community will strengthen our board and be a great benefit to the people we serve."
---
Media Contact:
Beth Brody
908-295-0600
*Pictured: Rachel Neff, LSW (left) and Morgan Q. Bryan, MS