Foundations Community Partnership Board Approves $135,000 in Grant Awards Benefiting 17 Bucks Non-Profits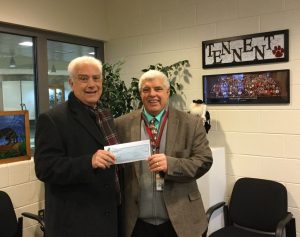 Doylestown, PA (December 18, 2020) – Grant funding has been awarded this month by Foundations Community Partnership's (FCP) Board of Directors to benefit 17 Bucks County non-profit organizations and the local families they support. The grant program is an integral part of Foundations' mission to improve the lives of underserved youth and their families in Bucks County. The grants included 12 Bucks Innovation and Improvement Grants (BIIG) and 6 Capital Improvement Grants. (Note: Grand View Health received two grants — one BIIG grant and one Capital grant.)
  BIIG grants support organizations that are developing innovative ideas to improve the quality of life for children, youth, and families in Bucks County. Capital Improvement Grants support non-profit organizations' capital campaigns, including structural improvements to facilities, renovations, durable equipment, and technological upgrades.
Bucks Innovation and Improvement Grants (BIIG) were awarded to the following 12 organizations and programs:
9-11 Memorial Garden of Reflection, Inc., will use the grant for a revitalization project. This project will use 20 students from a Bucks Technical HS to improve the 9-11 Memorial in Lower Bucks County.
Bucks County Children's Museum will use the grant to fund a second-year program that teaches children to explore their world, making it the optimal time to introduce children to S.T.E.A.M. (science, technology, engineering, art & math) content.
Centennial School District will use the grant to extend the hours and capacity of their Workplace Readiness and Community-Based Instruction vocational training program.
The Family Service Association of Bucks County will use the grant to duplicate the successful Bristol Family Fest for Quakertown. The Family Center serves as a resource for low income families.
Grand View Health Foundation will use the grant to support their Safe Sleep Books for Babies Program, which provides books and sleeping clothes to encourage safety for infants.
Hands Holding Hearts Grief Counseling Center will use the grant to subsidize counseling for those families that cannot afford to pay privately for grief counseling.
Lily's Hope Foundation will use the grant to provide customized packages to families with infants in the neonatal intensive care unit with items based on the family's needs.
Maternity Care Coalition will use the grant for a research-based nurturing parenting training program. The project works with low-income families with children at risk for behavioral health problems.
Network of Victim Assistance (NOVA) will use the grant to fund The Restoring Families Program (RFP), which provides evidence-based treatment services for ten youth ages 10-14 years who are exhibiting problematic sexual behaviors.
Roxy Therapy Dogs will use the grant to fund a project that will provide advanced training to improve the skills of therapy dogs and their handlers in working alongside children with physical or emotional needs.
Snipes Farm & Education Center will use the grant for their Farm-Based Life Skills and Employability Program for special needs teens and young adults. The program works with students ages 18 to 21, collaborating with their educational partners to determine individualized goals for students, adapting teaching methods to teach vocational skills.
Transformation Yoga Project's Connecting for Community Wellness will use the grant to provide yoga and mindfulness training for the staff and residents of a drug and alcohol residential facility.
Six organizations received Capital Grants:
The Coalition to Shelter and Support the Homeless will use the grant to purchase a new 15-passenger van to improve efficiency of services for families in need of transportation.
The Conservatory will use the grant to improve their Business Technology program and capacity through improved technology.
Grand View Health Foundation will use the grant to acquire new translation software and devices that will facilitate communication with healthcare providers and vulnerable patients in order to increase accuracy and efficiency of treatment.
Mercer Museum of the Bucks County Historical Society will use the grant to fund their Toys, The Inside Story Traveling Exhibition. The exhibit will benefit special needs children and youth and be presented from October 1, 2020 through January 3, 2021.
Operation Pathways will use the grant to purchase capital items and make improvements to their community center at Foxwood Manor.
Penndel Mental Health Center will use the grant to replace the roof on old residential building that serves young adults with behavioral health needs.
"We are truly grateful for the generous support from Foundations Community Partnership," said David L. Alderfer, Director of Development, Grand View Health Foundation. "The capital grant will help with technology upgrades so that we can offer video remote interpretation services for families struggling with language barriers and the hearing impaired at more Grand View Health locations. The BIIG grant is supporting an innovative expansion to our Books for Babies program to promote safe sleep practices with newborns while also encouraging early literacy,"
Editor's Note: Grant recipients are available for interview. Photos are available upon request of most grant recipients.
Media contact:
Beth Brody
908-295-0600
beth@brodypr.com
*Pictured: Ron Bernstein (Left) met with Dr. Al Catarro, Centennial School District, to provide a BIIG Grant.