FCP Board Approves More Than $210,000 in Grant Awards Benefiting 24 Bucks Non-Profits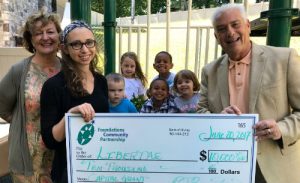 Doylestown, PA (June 22, 2017) – Foundations Community Partnership's (FCP) Board of Directors has announced the distribution of $211,187 in grant funding to benefit 24 Bucks County non-profit organizations and the families they support. The grant program is an integral part of Foundations' mission to improve the lives of underserved youth and their families in Bucks County. The grants included $92,000 in Bucks Innovation and Improvement Grants (BIIG), $116,687 in Capital Grants, and $2,500 in Technical Assistance Funding.
"We have the unique opportunity to support Bucks County non-profits that are striving to have a positive impact in our community," said Karen Lasorda, Chairman of the Foundations Community Partnership Board of Directors. "It's extremely rewarding helping make a difference in the quality of life among Bucks County youth and their families."
"We are excited that this grant will allow Libertae to make much needed renovations to our playground, which serves as many as 40 children per year, ages 5-12," said Nancy Wolf, CEO, Libertae.
"We are so happy to receive this Capital Grant from Foundations Community Partnership that supports inclusive play at Kids Castle for children of all abilities, including those with special needs," said Joe Salvati, Chairman of Friends of Kids Castle.
Foundations' Bucks Innovation and Improvement Grants (BIIG) were awarded to the following 10 organizations and programs:
Artists in Residence (Newtown) will use the grant to provide Mural Arts for Bristol Township Elementary Schools serving special needs students in low-income areas. Students will have the opportunity to create art projects in school, working in groups in positive ways, learning to respect each other and enhance their academic, social, and emotional development.
Bethany Christian Services of the Greater Delaware Valley (Bucks County) Safe Families for Children™ program serves parents and their children who are referred due to short-term crises. The grant will support their mission to provide temporary foster placement for children whose families are in crisis.
The Bucks County Intermediate Unit's Project IU Hope program (New Hope-Solebury) will use the grant to create an additional classroom program that addresses functional academics and provides meaningful job shadowing/pre-employment experiences for transitional-age special needs students.
Bucks County Opportunity Council (Doylestown) will use the grant to support a Wheelz to Work Program Expansion. The program provides repaired used vehicles to low-income families who need transportation to appointments, school, and work-related activities to help them achieve their self-sufficiency goals.
KidsPeace National Centers, Inc. (Doylestown) will use the grant for their KidsPeace Doylestown Resource Program for Foster Families, which provides training for parents and social service support for foster placement and adoption of children. The KidsPeace Doylestown foster care office works primarily with a young population of foster children, providing homes and support to babies and young children whose parents' drug addiction led to their entry into foster care.
One House at a Time (Bucks County), which provides beds and necessities for low-income families, will use the grant to provide Beds for Kids. Last year, the Beds for Kids program served 1,050 low-income children and youth who were sleeping without proper bedding.
Special Equestrians (Warrington) will use the grant to support their Horses Heal: Advancing Equine Experiential Learning for Children and Young Women program. Special Equestrians will expand the capacity and range of equine-assisted learning opportunities for young people with social-behavioral challenges, abuse, addiction, and teen pregnancy.
The Peace Center (Langhorne) will use the grant to support their Girls Unlimited program, which works with high-risk populations and provides support for vulnerable young women to avoid bullying and self-harm. The Peace Center has implemented programs in more than 300 schools and reached more than 10,000 individuals to create more peaceful communities.
Valley Youth House Committee, Inc. (Bucks County) will use the grant for their Camp Fowler Summer Adventure Program. Funding will provide camp scholarships and camping supplies for 12 Bucks County youth who are homeless, in foster care, or otherwise without family resources to attend the camp.
Woods Services Inc. (Langhorne) will use the grant to provide trauma informed care training to staff who work with special needs youth. The program will use NOVA educators to train clinical staff working with traumatized children who exhibit hyper- sexual behavior. Woods serves 295 children and youth with intellectual/developmental disabilities, many of whom also have behavioral/emotional disorders.
Thirteen organizations received Capital Grants from Foundations Community Partnership:
The Bristol Riverside Theatre (Bristol) received a grant to upgrade their LED lighting, which will greatly enhance lighting at the theater. Bristol Riverside Theatre provides a valuable service to special needs and low-income children and adolescents in Bucks County.
The Bucks County Association for the Blind and Visually Impaired (Newtown) will use the grant for the construction of a Sensory Community Garden, where children with vision loss and their families will partner with sighted volunteers to create, develop, and maintain an ecofriendly garden.
Bucks Co. Intermediate Unit #22 (Lower Southampton) will use the grant to purchase preschool sensory play equipment that will provide access for children to participate in play activities both indoors and outdoors. The indoor playground will be located in a new elementary school serving 250 special needs children in Bucks County.
Family Service Association (Langhorne) will use the grant for capital improvements to support new programs that address opioid addiction and related disorders, and to develop the existing facility into a state-of-the-art treatment program for adolescents and adults with co-occurring substance abuse and mental illness. Family Service Association delivers services to 300+ low-income persons with mental illness, substance abuse disorders, and related health challenges.
Christ's Home (Warminster) will use the grant for a long overdue replacement of their Family Learning Center to better serve special needs and underprivileged youth with parenting education, counseling, relational connection, recreation, and indoor social activities.
Friends of Kids Castle (Doylestown Twp.) will use the grant to purchase play equipment for special needs children at the Kids Castle playground. The project's inclusive design will transform the playground so that it is usable by the widest range of abilities, ultimately increasing access, safety, comfort, and social participation. Each day, Kids Castle welcomes hundreds of children ages 2-12 and families from various socioeconomic backgrounds and developmental status.
The Lenape Valley Foundation (Bristol) will use the grant for The Lodge at Lenape Valley Foundation Crisis Residential Project. The Lodge will fill a gap in treatment for Bucks County young adults and adults in the midst of a behavioral health crisis and whose safety is at risk, typically due to suicidal intent.
Libertae (Bensalem) will use the grant to purchase Family Center playground equipment which will be used by children in residence with their mothers and by the daycare center. Libertae provides a safe place for women struggling with addiction.
Pearl S. Buck International (Perkasie) will use the grant for safety upgrades to blacktop areas. Pearl S. Buck International is an organization offering support for adopted children in Bucks County and cultural diversity improvement with schools, agencies, and organizations in Bucks County.
Potential Inc. (Newtown) will use the grant for a therapeutic playground for children in the Potential Inc. program and others by appointment. It will provide a safe, secure place where special needs children can enjoy a playground designed specifically for them.
Snipes Farm & Education Center (Morrisville) will use the grant for a pedestrian ADA compliant bridge leading to a sensory trail in the woods, which will extend services to those with special needs and disabled children and youth to connect them to the natural world.
Woods Services (Langhorne) will use the grant to provide a training kitchen in the school for adolescents and young adults with developmental and physical disabilities. The kitchen is used to teach independent living skills to more than 200 students, age 13–21, with intellectual/developmental disabilities, many of whom are in wheelchairs.
Worthwhile Wear (Pipersville) will use the grant to construct a training and education center that will provide services for transition-age and adult survivors of human trafficking. The organization provides a needed service for care and prevention of human trafficking victims in Bucks County by offering a long-term solution to restoring survivors of sex trafficking, potentially serving over 500 victims.
Technical Assistance Support Funding was awarded to:
HealthLink received a grant to support staff training and continuing education. HealthLink is a free dental clinic in Southampton that provides services to low-income adults including transition age young-adults and the training will provide key staff with the skills to be successful in their new roles.
*Pictured Left to right: Libertae Executive Director, Nancy Wolf; Summer Youth Corps Intern Sarah Devlin; Playground Fans; and Ron Bernstein, Executive Director of Foundations Community Partnership.