FCP Surpasses $3M in Giving to Bucks County Non-Profits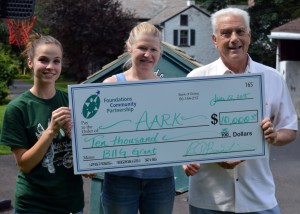 Doylestown, PA (Feb. 23, 2016) — Grants are often critical in keeping nonprofit organizations afloat, especially during tough economic times. With funding from Foundations Community Partnership, nonprofit organizations in Bucks County have been granted $3 million since 2007. Based in Doylestown, PA, Foundations is a philanthropic grant-making foundation supporting the behavioral health and human service needs of children and young adults in Bucks County.
Foundations' efforts to improve the quality of life in the community through its grant programs have helped fund worthwhile programs as summer enrichment for at-risk children, improving self confidence and self-esteem among disadvantaged and special needs kids, and educational opportunities for classrooms serving students with special needs and behavioral health problems.
This financial support takes the form of several types of grants: Bucks County Innovation and Improvement Grants, Capital Improvement Grants, Partnership in Youth Service Grants, Emergency Grants and Technical Assistance Funding.
"Our mission is to provide targeted support of nonprofit human service organizations serving special needs children, youth, and families in Bucks County," says Ron Bernstein, Foundations Executive Director. "We focus on organizations that are truly serving the families in Bucks County who need help the most."
In addition to its grants programs, Foundations also awards scholarships to Bucks County high school seniors through its Partnership in Education Program, subsidizes service learning internships for college students selected for the Foundations Summer Youth Corps, underwrites community education programs and supports behavioral health education and research.
"Grants from Foundations Community Partnership have provided the James A. Michener Art Museum with various opportunities to reach out to area underserved populations through the PALMS Pilot, Art Serve, and Art Reach programs," says Ruth Anderson, Director of Youth and Family Programs,
James A. Michener Art Museum. "Foundations shares the Michener's commitment that the arts will, in the words of Herbert Read, "create better people and better communities."
*Pictured: Ron Bernstein, Executive Director of Foundations Community Partnership (right) and Foundations Summer Youth Corps Intern Emily Wolcott (left) present a
grant to Leah Stallings, AARK Executive Director (center).