Foundations Community Partnership Board Approves $210,000 in Grant Awards Benefiting Bucks Non-Profits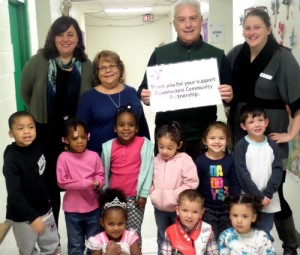 Doylestown, PA (Dec. 17, 2014) – Foundations Community Partnership's Board of Directors has announced the distribution of $210,000 in grant funding to support 19 Bucks County non-profit organizations and the families they serve. The grant program is an integral part of Foundations' mission to improve the lives of youth and their families in Bucks County. The grants included $100,000 in Bucks Innovation and Improvement Grants (BIIG), $60,000 in Capital Grants and a $50,000 Target Funding Grant.
Foundations Community Partnership awarded a $50,000 Targeted Funding Grant to the Bucks County Housing Group for its Transition Age Shared Living program. This pilot program will help facilitate community integration of transition age youth, to help them establish themselves as independent community members through a shared living model. This program is an important next step for transition age youth with behavioral health problems.
Foundations' Bucks Innovation and Improvement Grants (BIIG) were awarded to the following organizations and programs:
Network of Victim Assistance in Jamison will use the grant for their Mandated Reporting of Child Abuse training program, which will offer training for 500 participants to help them comply with current legislation by the Department of Public Welfare.
Access Services in Ft. Washington will use the funding to expand their "Enriching Lives with Bucks Life" program service area from Lower Bucks County to include more activities in Central Bucks County. The program serves Bucks County families with a child or adolescent who has emotional, behavioral, social and/or learning challenges.
Family Service Association of Bucks County will use the grant for their Call Center, an exciting initiative that brings together three vital services designed to secure the health and well being of 10,000 vulnerable Bucks County residents, including those experiencing social and emotional problems, those who need basic resources and those who are homeless.
The Aldie Foundation's Adolescent Counseling Program in Doylestown will use the grant to support its substance abuse counseling and treatment program for 50 adolescents ages 14 to 17 years old who are struggling with substance abuse and dependency. Aldie strives to decrease the number of youth in the community who are engaging in alcohol and illegal drug use through early intervention, psycho-education, individual therapy, family therapy, and group therapy efforts.
The Bucks County Health Improvement Project's (BCHIP) Clinic provides free primary and chronic care for low-income, uninsured adults and is the only free clinic in the area for unemployed adults. The grant will enable the Clinic to expand its ability to provide onsite mental health counseling and to direct healthcare to these underserved patients, allowing positive family and community interaction.
Central Bucks Family YMCA in Doylestown will use the grant for their Ability Summer Camp, where 25 children with disabilities will be selected from 36 mainstream day camps to participate in arts and crafts, music, sports, games, and relationship-building. These children will be assigned to work with specially trained staff for this program.
The Lower Bucks Family YMCA in Fairless Hills will use the grant to expand their Special Abilities Building Bridges program for pre-K and school age children. They will provide education and leadership training for YMCA staff and teachers to address the needs of children in their Early Childhood Education Program in Fairless Hills and Morrisville.
Snipes Farm and Education Center's Farm to School Program in Morrisville will use the funding to will work closely with local school staff, administrators and experts from the Bucks County Intermediate Unit to articulate specific education goals for students with special needs.
NHP Foundation's Operation Pathways – Brighten-Up in Levittown will use the grant to provide a safe, educational environment for children of low-to-moderate income families during out-of-school time. The program provides academic and recreational after school activities.
YWCA in Trevose will use the funding to support their Girls Circle program, which is focused on building self- concept and self-esteem for young girls to prevent development of mental health problems. Designed to increase positive connection, strengths, and competence, Girls Circle is a structured support group for girls from 9-18 years, which integrates relational theory, resiliency practices, and social skills training.
Chandler Hall's Intergenerational Education and Outreach program in Newtown will use the funding to ensure, through educational outreach in Bucks, that young children, especially those at risk, have purposeful and successful opportunities to interact with elders through development of an training manual and outreach.
ATG Learning Academy in Warminster will use the funding for its ATG Together program. This socially based, interactive program focuses on providing clubs to a student body of 50 special needs students. Clubs will include basketball, gardening, theater, chess, a school newspaper, yearbook, and school outings.
Six organizations received Capital Grants from Foundations Community Partnership:
Christ's Home for Children in Warminster will use the funding to purchase a new van to safely transport clients to activities and appointments. The program uses the family education model to provide care for 70 special needs children and youth in group home settings.
Council Rock School District in Newtown will use the grant to purchase a van for their Achieve program, which provides pre-vocational services to transitional age youth with developmental disabilities.
Ivy Hill Therapeutic Equestrian Center in Perkasie will use the funding to build a new Tack Room that will allow easier access for 160 clients with special needs. Ivy Hill offers equine-assisted programs for children and adults with a wide range of disabilities.
Potential, Inc. in Newtown provides services to 125 children, youth and adults with autism to help them reach their educational, social, and emotional potential. They will use the grant for new waiting room furniture and a security system in new building.
Peaceful Living in Harleysville will use the grant to make acoustic modifications and reduce echoes in treatment rooms. Peaceful Living is a day program providing services for 30 transition age young adults with intellectual and developmental disabilities.
Valley Youth House in Warminster provides emergency shelter for up to 85 runaway, homeless and street children and youth per year. Youth receive access to emergency shelter, survival aid, counseling, referrals for specialized services, crisis intervention, and education and employment assistance. The grant will help pay for new furniture in the emergency shelter.
"The grant from Foundations is a wonderful opportunity for us to help fulfill a need for housing among transition aged youth with behavioral health issues," says Tracy Mellor, Executive Director, Bucks County Housing Group (BCHG). "This infusion of funding will be used to finance our collaborative initiative between BCHG, the Bucks Co. Department of Mental Health/Developmental Programs and Access Services, Inc. to provide affordable housing for young people who are ready for more independent living."
"The Board of Directors is pleased to support these worthwhile local organizations that are making such a difference in the community," said Joseph Stella. MD, Chair of Foundations Community Partnership Board of Directors. "Our grant program provides funding to the groups that are fulfilling unmet needs for underserved children and families in Bucks County."
Foundations Community Partnership is a private non-profit operating foundation that supports behavioral health education and research, provides grants for non-profit organizations, awards scholarships to Bucks County high school seniors, subsidizes service learning internships for college students and underwrites community education programs. To learn more about Foundations and its mission please visit their website at fcpartnership.org or contact them at 267-247-5584.
Media contact:
Beth Brody
609-397-3737
beth@brodypr.com
*Pictured Top row from left to right: Ron Bernstein, Executive Director, Foundations Community Partnership, presents a check to Lower Bucks YMCA staff Shannon Connolly, Development Director; Debbie Haneman, Fairless Hills Child Care Director; and Meghan Sinback, Youth and Teen Services Director.