Foundations Community Partnership Board Approves $145,000 in Grant Awards Benefitting Bucks Non-Profits
Doylestown, PA (December 14, 2012) – As part of their mission to improve the lives of Bucks County young people and their families, Foundations Community Partnership's Board of Directors has approved $145,000 in grants to help 16 Bucks County non-profit organizations and the families they serve. Foundations' end-of-the-year giving included $90,000 in Bucks Innovation and Improvement Grants (BIIG), $45,000 in Capital Grants, and $10,000 in Emergency Grants.
Bucks Innovation and Improvement Grants (BIIG) were awarded to
Lakeside Educational Network received a grant to design and provide online parenting education to parents of at-risk children and youth who are served by Lakeside's programs. Approximately 160 Bucks County students and their families will benefit from this program.
Libertae Inc. in Bensalem will use the grant to provide therapy and
social services to women who are suffering from co-occurring mental health diagnosis and substance use disorders and their children. The children at Libertae are likely to have experienced physical, mental and emotional trauma related to abuse, neglect and abandonment.
The Ann Silverman Clinic in Doylestown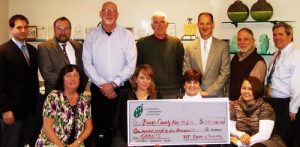 will use their grant to fund their services, which includes care for 122 underinsured, underprivileged children. The clinic provides free medical care, dental care, and social services for uninsured members of the Bucks County community.
St. Mary's Living Well Program in Langhorne was awarded a grant to improve the physical and mental health of Bucks County families, with an emphasis on the most vulnerable populations. The Living Well program seeks to improve the overall physical and mental health of more than 90 special needs children in Bucks County.
Gilda's Club in Warminster provides social service support to 300 children and families in Bucks County affected by cancer. Their Str8 TLK About Cancer program will use the grant to address the unmet cancer support needs of local teens and adolescents, and will offer teen specific support groups, education, workshops and social outlets.
Bucks County Links in Doylestown will use the grant to provide a free Youth Leadership Institute for high school students aimed at addressing their concerns as they navigate their everyday lives. The institute is open to 300 teens in Bucks County.
Centennial School District in Warminster was awarded a grant for their Service Learning and Community Based Instruction Program, which addresses the vocational needs for 300 special needs high school students, including IEP, transition planning goals, academic standards, diversity, communication, college and career planning.
The Council of Southeast Pennsylvania Inc., in Bristol and Doylestown, will use the grant to support their Fatherhood: The Foundations of Strength project, which helps fathers model substance-abuse-free behaviors for their children. Forty-five fathers will participate in a 13-week educational project utilizing evidenced based curriculum.
The Peace Center in Langhorne was awarded a grant for their Respecting Me, Respecting You program, which is designed to introduce specific skills and concepts to 300 Bucks County students. The program is intended to increase social and emotional intelligence, build community and resolve conflict peacefully.
Voice and Vision Inc. of Warminster will use the grant for their Hope and New Direction (HAND) program, a person-centered planning model designed for use by young adults working with peers. Voice and Vision advocates and offers peer support to families and individuals who are living with mental illness, developmental disabilities, and addictions.
Five organizations received Capital Grants from Foundations Community Partnership:
Chandler Hall in Newtown received a grant for its Patio Safety Renovation project. The program provides services to all children, including those with special needs. It offers an intergenerational approach, working with multiple generations to benefit special needs children.
Bucks County Housing Group in Wrightstown will use the grant for their office relocation, which will allow more opportunity for client interaction, easier transportation and agency cost reduction.
Doylestown Township and the Doylestown Parks and Recreation Department was awarded a grant for the Sensory Trail, which will provide an outdoor recreational environment for individuals with a variety of challenges, including visual and hearing impairments, orthopedic limitations, and those with Autism Spectrum Disorders.
Silver Lake Nature Center in Bristol will use the grant for upgrading their Watershed Education Building to meet ADA standards. The staff at Silver Lake Nature Center deal with special needs children, visiting aides, and a wide variety of other issues.
NOVA/CAC received a grant for their Jamison expansion project, which creates a family friendly meeting space to focus on in-depth work with non-offending caregivers and will allow them to express their concerns, reservations, and questions in a private area.
An Emergency Grant was awarded to Valley Youth House in Warminster for their Synergy Project, which serves homeless street youth in urban suburban and rural communities in Bucks County. Operating under the assumption that all youth deserve to be safe, The Synergy Project has come in contact with 170 homeless youth over the past 12 months. Valley Youth House services include outreach, connecting youth with housing and survival aid, a 24-hour hotline, education, information, counseling, referral, crisis intervention, access to 24-hour emergency shelter, case management, and follow-up for youth up to age 21 who are runaways, homeless or at risk of separation from the family.  Beneficiaries include young single mothers doubled up with other teen moms, victims of abuse with nowhere to turn, "gutter punks," and squatters living under bridges or near train tracks.
"The Board of Directors is pleased to support these local organizations that are serving the young people in our community who need help the most," said Ron Bernstein, executive director, Foundations Community Partnership. "These non-profit groups are fulfilling unmet needs for underserved children and families in Bucks County."
Foundations Community Partnership is a private non-profit operating foundation that supports behavioral health education and research, provides grants for non-profit organizations, awards scholarships to Bucks County high school seniors, subsidizes service learning internships for college students and underwrites community education programs. To learn more about Foundations and its mission please visit their website at www.fcpartnership.org or contact them at 267-247-5584.
Pictured:
Foundations Community Partnership Board of Directors announced $145,000 in end-of-the-year funding to 16 non-profit organizations serving youth and their families in Bucks County.
Top row, left to right: Steven Detweiler, Dr. Dan Weldon, Dave Thompson, Dr. Richard Coe, Robert Zagerman, Dr. Joseph Stella, and Kevin Crawford
Bottom row, left to right: Linda Earnshaw, RN, Caroline Sinton, Peggy Hanselman, and Dr. Christina Carson-Sacco. Missing: Ron Bernstein, Gail Freidman
Media contact:
Beth Brody
609-397-3737