Foundations Awards Partnership in Education Scholarships To 16 H.S. Seniors in Bucks County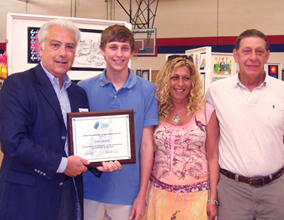 Doylestown, PA (May, 2011) – Ronald Bernstein, Executive Director of Foundations Community Partnership, has awarded scholarships to 16 Bucks County public high school seniors through its annual Partnership in Education program this month. The Foundations Partnership in Education program recognizes the achievements of local Bucks County public high school seniors for their demonstrated community service, commitment to academic performance, and quality of character. Students are nominated by their guidance counselor or a member of the school administration.
Mr. Bernstein presented checks for $750 to:
Amanda Morton at Bensalem High School
Shannon Cook at Bristol-Boro Sr. High School
Jennifer Guidera at Central Bucks High School East
Jennie Marie Upton at Central Bucks High School South
Naomi Long at Central Bucks High School West
Dana Joy Carducci at Council Rock High School North
Veronica Pflueger at Council Rock High School South
Priscilla Agyemang of Harry S. Truman High School
McKenna Markgraf at Morrisville High School
Katrin Trotsyuk at Neshaminy High School
Nicole Kelner at New Hope-Solebury High School
Greg Scheckler at Palisades High School
Taylor Sweeney at Pennridge High School
Phillip Shwae at Pennsbury High School
Ryan J. Miller at Quakertown Community High School
Richard Grillone at William Tennent High School
Many of the recipients of the Foundations Partnership in Education program are also being recognized as a part of their school's commencement activities or other ceremonies to honor outstanding students. Proceeds of the Partnership in Education award may only be used for educational purposes, including payment of college tuition, books, and related expenses.
"We want to support young people in Bucks County as they strive to develop meaningful and positive roles in our community," says Bernstein.  "The students we have chosen to receive scholarships have proven their commitment to community service and we congratulate them on their achievements."   For more information on the Partnership in Education program please call Foundations Community Partnership at 267-247-5584 or visit www.fcpartnership.org.
Foundations Community Partnership (www.fcpartnership.org) provides grants and technical assistance to non-profit organizations, awards scholarships to Bucks County high school seniors, subsidizes service learning internships for college students, underwrites community education programs and supports behavioral health education and research.