FCP Board Awards Nearly $185,000 to Local Nonprofits
Doylestown, PA (July 17, 2023) – At the conclusion of its fiscal year, Foundations Community Partnership (FCP) Board of Directors awarded nearly $185,000 in grants to 24 non-profit organizations, including 12 Bucks Innovation and Improvement Grants (BIIG), 6 Capital Improvement Grants, and 6 Partnership in Youth Services Grant (PYS). Collectively, these organizations will help address the behavioral health and human service needs of 22,258 Bucks County residents.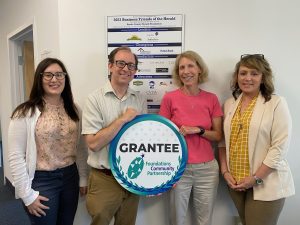 BIIG and PYS grants recognize innovative programs and ideas to improve the lives of children, youth, and families in Bucks County, while Capital Improvement Grants support structural improvements to facilities, renovations, durable equipment, and technology upgrades.
"Since 2007, we awarded more than $7 million to nonprofits serving Bucks County, and the Board is thrilled to continue the tradition of support and partnering with all of the grant recipients in support of their mission," said Abigail Halloran, Chair, FCP Board of Directors.
BIIGs totaling $105,000 were awarded to the following non-profit organizations:
Organization
Grant Will Be Used
Bucks County Audubon Society
To provide horticulture therapy to individuals with intellectual and developmental disabilities, many of whom are on the autism spectrum.
Bucks County Children's Museum
To create an interactive museum exploration planning guide for autistic and neurodiverse learners to be hosted on the museum's website.
Cancer Support Community Greater Philadelphia
To add family activities in the evenings and weekends to help empower clients to take control over their lives and survivorship.
Girl Scouts of Eastern Pennsylvania
To equip girls with the necessary tools to face challenges and provide them with a support system that fosters the development of leadership and life skills.
Kelly Anne Dolan Memorial Fund

To provide logistical, financial, and emotional

support for families that struggle to manage expenses associated with caring for a child with complex medical issues and managing lengthy pediatric treatment needs.

KidsPeace National Centers
To provide resources for foster youth and families to become involved in interest-based, social, and recreational activities.
National Alliance on Mental Illness of PA (NAMI), Bucks County Chapter
To help deliver NAMI's "Ending the Silence," a free, 50-minute prevention and early intervention program that engages middle and high school-age youth in a discussion around mental health conditions and suicide awareness.
Rolling Harvest Food Rescue
To provide foods for and engage with children and their families from food-insecure households participating in YWCA's six-week summer "Lunch and Library" program.
The Council of Southeast Pennsylvania
To support the development and implementation of a new, interactive website.
YMCA of Bucks and Hunterdon Counties
To serve children who present a need for a collaborative mental health approach that allows for better understanding of oneself, coping skills, and other mechanisms.
Youth Orchestra of Bucks County
To provide music education and performance opportunities not provided in the schools for children from low-income areas
YWCA Bucks County
To engage youth in activities and experiences that will help them navigate mental and emotional stress.
PYS Grants totaling $24,000 were awarded to the following non-profit organizations:
| | |
| --- | --- |
| Organization | Grant Will Be Used |
| Bucks County Herald Foundation | To publish feature stories highlighting the work of local nonprofits that may not be known to a large audience. |
| Cosmic Writers | To work with the Rainbow Room at Planned Parenthood Keystone to provide creative writing workshops to queer teens in Bucks County. |
| Education Law Center | To support its Helpline for families in Bucks County experiencing educational barriers, including unlawful exclusion of students with disabilities, race-based discrimination, and bullying. |
| Ivins Outreach Center | To further enhance academic support, Social & Emotional Learning programs, and health related offerings to at-risk students in Lower Bucks County. |
| Pride of Quakertown | To provide scholarships that allow at-risk children (K-12) in the Quakertown School District to participate in a wide variety of after-school enrichment programs. |
| The Divorce Recovery Center | To provide emotional and practical support to teenagers whose parents are going through a divorce. |
Capital Improvement Grants totaling $53,500 were awarded to the following non-profit organizations:
| | |
| --- | --- |
| Organization | Grant Will Be Used |
| Bucks County Opportunity Council | To support infrastructure needs and repairs of recently purchased facility. |
| Comprehensive Learning Center | To make necessary technology improvements to maximize the independence for students with autism through various educational and vocational training opportunities. |
| Doylestown Hospital | To implement a musical playground garden at its rebuilt Children's Village. |
| Easterseals of Southeastern Pennsylvania | To repair and rebuild a flood damaged playground area. |
| Network of Victim Assistance | To support the installation of a new security system. |
| One House at a Time | To support the purchase of a new delivery truck. |
A $2,250 Nonprofit Growth Grant was also awarded to the Joe Hand Boxing Gym of Feasterville to support the organization's strategic planning and capacity-building efforts.
###
Photo caption: FCP's Caroline O'Connell Sinton (right), Director of Grants & Program, presented a grant to the Bucks County Herald Foundation represented by Regina Young, Sports & News Editor, Editor-in-Chief John Anastasi, and Jodi Spiegel Arthur, Entertainment & News Editor (from left).
Media Contact:
Name: Tobi Bruhn, Ed.D., CFRE
Title: CEO
Phone: (267) 247-5584
E-mail: info@fcpartnership.org