FCP Seeks Applicants for Spring Grant Cycles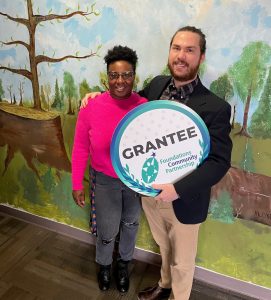 Doylestown, PA (February 14, 2023) – Foundations Community Partnership (FCP) is now accepting applications for its Bucks Innovation & Improvement (BIIG) and Capital Improvement (CAP) spring grant cycles. Eligible nonprofits can submit a Letter of Inquiry by April 1, 2023, through FCP's web site.
Annually, BIIG and CAP grant cycles offer $200,000 in support for innovative programs and services as well as structural facility improvements and technology upgrades that will have a positive impact on Bucks County's children, young adults, and families. For more information about these grant opportunities, visit fcpartnership.org/grants. Last fall, FCP's Board of Directors awarded 10 BIIG and eight CAP grants. Collectively, these 18 non-profit recipients served 7,724 Bucks County residents by expanding services and infrastructure.
###
Photo caption (left to right): Valley Youth House's Fateemah Dedmon and Harrison Fertig accepted a BIIG grant on behalf of their organization to help support behavioral health and wellness needs for transition-age youth.
Media Contact:
Name: Tobi Bruhn, Ed.D., CFRE
Title: Executive Director
Phone: (267) 247-5584
E-mail: info@fcpartnership.org