Partnership in Youth Services Grants Will Serve More Than 6,200 Bucks County Residents
Doylestown, PA (October 25, 2022) – Foundations Community Partnership (FCP) recently awarded its annual Partnership in Youth Services (PYS) Grant to 13 non-profit organizations serving children, young adults, and families in Bucks County, Pa. Collectively, these organizations will help address the behavioral health and human service needs of 6,224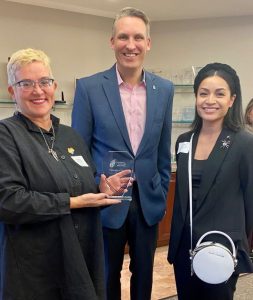 Bucks County residents.
"These nonprofits provide essential services for their clients during a time of need and growing uncertainty," said Abigail Halloran, Chair of FCP's Board of Directors. "Supporting innovative ideas and impactful programs has been at the core of our grantmaking for the past 15 years."
PYS Grants totaling $36,970 were awarded to the following non-profit organizations:
Bucks County Intermediate Unity #22 – to provide scholarship support for children to attend programs at STEAM Fab Lab Center
Central Bucks School District – to elevate the student voice for the collective improvement of the district's schools
Friends of Peace Valley Nature Center – to create a safe family play area within a natural habitat
Immigrant Rights Action – to provide youth with basic life skills training, leadership development, community service opportunities, etc.
Life Path – to provide sensory stimulation to children with disabilities
Open Door Abuse Awareness Prevention – to promote violence prevention and healthy relationships in high school sports
Planned Parenthood Keystone – to support the Rainbow Room Queer Prom
Soroptimist International of Indian Rock – to support "Dream It, Be It", a one-day program designed for female high school students offering career support and guidance
Sunshine Foundation – to develop a web-based app to streamline applications and dream referrals for children
The Fiaria Project – to support foster children through customized Wellness Kits
The Welcome Project PA – to expand mental health services for LGBTQIA+ youth
Vita Education Services – to offer a field trip to the Bucks County Children's Museum for families enrolled in literacy classes
Youth Empowerment Through Social Support Inc – to offer personalized assistance to high school seniors to guide them through the college application process
Nonprofit Growth Grants were also awarded to the Bucks-Mont Collaborative and the Senior Adults for Greater Education (S.A.G.E). The Bucks-Mont Collaborative will use the $12,500 grant for its "Racial Equity Learning Community", a cross-county, multi-sector initiative for organizations in Bucks and Montgomery Counties to come together to learn, build relationships, and take action that deepens organizational and collective capacity to advance racial equity and justice. S.A.G.E. will use the $4,050 grant to support the organization's strategic planning and sustainability efforts.
###
Photo caption: Foundations Community Partnership's Executive Director Tobi Bruhn (center), presented a grant to Planned Parenthood Keystone's Marlene Pray (left), Director and Founder of the Rainbow Room, and Chief External Affairs Officer Samantha Bobila (right).
Media Contact:
Name: Tobi Bruhn, Ed.D., CFRE
Title: Executive Director
Phone: (267) 247-5584
E-mail: info@fcpartnership.org