FCP Board Awards More Than $150,000 in Grants to 18 Nonprofits
Doylestown, PA (August 2, 2022) – As Foundations Community Partnership (FCP) concludes its celebration of assisting nonprofits to help improve the lives of children, youth, and families in Bucks County for the past 15 years, the FCP Board of Directors awarded $152,500 in grants to 18 non-profit organizations, including 12 Bucks Innovation and Improvement Grants (BIIG) and 6 Capital Improvement Grants.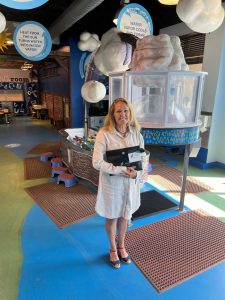 BIIGs recognize innovative programs and ideas to improve the lives of children, youth, and families in Bucks County, while Capital Improvement Grants support structural improvements to facilities, renovations, durable equipment, and technology upgrades.
"Over the past 15 years, we awarded more than 700 grants to nonprofits serving Bucks County, and the Board is thrilled to continue the tradition of support and partnering with all of the grant recipients to help make a positive difference," said Abigail Halloran, Chair, FCP Board of Directors.
BIIGs totaling $100,000 were awarded to the following non-profit organizations:
Aark Wildlife Rehabilitation and Education Center-To enhance the summer camp and after-school experience for children and youth of low-income families
Bucks County Opportunity Council-To provide resources to low-income families to participate in recreational activities to improve relationships and quality of life
Family Service Association of Bucks County-To help reduce the Bucks County wait list for services from the behavioral health crisis hotline
Girl Scouts of Eastern Pennsylvania-To provide resources for low-income families to participate in Girl Scouts activities
Hammerheads Sled Hockey Association-To provide more ice time for youth hockey team comprised of disabled players
Network of Victim Assistance-To provide digital safety training to young students at risk for cyberbullying, victimization, and exploitation
Pearl S Bucks International-To create a video presentation that enhance the understanding of diversity among public school students
RJ Leonard Foundation-To develop software that will aid in collecting data to help participants to track progress toward established goals
Rolling Harvest Food Rescue-To provide food and nutrition education to low income, food insecure families
The Council of Southeast Pennsylvania-To support the new Family Recovery Center
Worthwhile Wear-To serve survivors of human trafficking
Youth Orchestra of Bucks County-To provide music education and performance opportunities not provided in the schools for children from low-income areas
Capital Improvement Grants totaling $52,500 were awarded to the following non-profit organizations:
Acting Naturally-To enhance the theater and arts experience for children, youth, and audience
ATG Learning Academy-To provide educational programming for disabled children
BARC Developmental Services-To improve building safety for disabled individuals served
Bucks County Children's Museum-To renovate a popular museum exhibit
Peace Valley Holistic Center-To provide retail restaurant training for disabled youth
Potential Inc.-To provide specialized bathroom equipment to new program space
###
Photo caption: Kelly Krumenacker, President and Executive Director of the Bucks County Children's Museum, accepts a grant award from Foundations Community Partnership to help upgrade the popular water table she stands in front of.
Media Contact:
Name: Tobi Bruhn, Ed.D., CFRE
Title: Executive Director
Phone: (267) 247-5584
E-mail: info@fcpartnership.org