FCP Provides $10,000 Emergency Grant To Family Service Association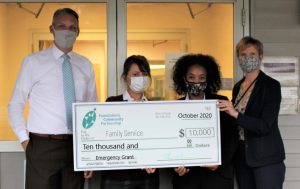 Funding will support learning lab for school-aged children living at the Bucks County Emergency Homeless Shelter
Doylestown, PA (November 4, 2020) – Schooling is a struggle for many families these days, but this is especially true for homeless children and their parents. For those  staying at the Family Service Association's (FSA) Bucks County Emergency Homeless Shelter, a $10,000 emergency grant from Foundations Community Partnership will help provide a new Learning Lab for homeless students who need a quiet, safe learning environment and in-person educational support from caring adults.
The Learning Lab will reduce barriers to education for students living in the shelter and provides them with full access to learning opportunities offered by their home schools in a secure environment. The emergency grant will help the Family Service Association provide education to 75 children who are already suffering from the loss of their homes.
"This is an especially difficult time for students living in shelters, and our Board of Directors is pleased to be able to support the Family Service Association's quest to help homeless children succeed academically," says Tobi Bruhn, Ed.D., CFRE, Executive Director, Foundations Community Partnership. "This learning program promotes student success and can help reduce learning gaps so that the children don't fall behind in school."
"The instability of homelessness coupled with the pandemic that resulted in upending school routines, really adds a new layer of unsettledness to homeless families. However, because of the generosity of Foundations Community Partnership, we have been able to set up a learning lab for our shelter children," says Julie Dees, MA, LPC. Acting Chief Executive Officer, Family Service Association of Bucks County. "We bus children to the lab where teachers assist students with their virtual learning setup and assignments. Most importantly, the lab offers students a sense of normalcy in getting to be with peers in a structured learning setting and provides parents with time to pursue their housing goals, go to work, or just get a few hours of downtime."
Media contact:
Beth Brody
908-295-0600
beth@brodypr.com
*Pictured Left to Right: Tobi Bruhn, Ed.D., CFRE and Caroline O'Connell Sinton of Foundations Community Partnership provide at $10,000 emergency grant to Murielle Kelly and Julie Dees, MA, LPC- of Family Service Association of Bucks County.