Foundations Provides Grants to 12 Bucks County Non-Profits at Annual Partnership in Youth Services Awards
---
Doylestown, PA (October 26, 2018) – More than 200 community service leaders, non-profit organizations, and local governmental leaders attended the Foundations Community Partnership "Partnership in Youth Services" luncheon ceremony held at the Doylestown Country Club in Doylestown on October 23. This year the event honored 12 non-profit community programs in Bucks County that are making a difference in the lives of local children and their families with monetary grants of $3,000 each.
"Our goal is to collaborate and partner with non-profits serving special needs kids, teens and young adults throughout Bucks county and to increase the well-being of our children and families," said Ron Bernstein, Executive Director, Foundations Community Partnership. "We encourage you to think broadly and boldly about new ways to work together to increase our collective impact."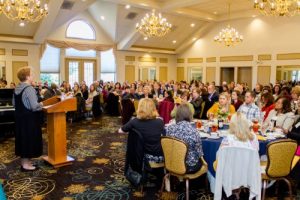 The event's keynote speaker was Caryl Stern, CEO, UNICEF and author of "I Believe in Zero: Learning From the World's Children." Caryl presented at the White House's inaugural summit on The United State of Women and was named one of "25 Women Changing the World in 2017" by People magazine, "20 Most Influential Moms of 2017" by Family Circle, "25 Moms We Love" by Working Mother magazine and "Ten Women to Watch" by Jewish Women International.
Foundations Executive Director Ron Bernstein, Caryl Stern, Bucks County Comissioner Diane Ellis-Marseglia, and Foundations Board Member Peggy Hanselman presented plaques and checks to the 12 local non-profit organizations.
Among the community programs receiving grants were:
A Woman's Place's program "Healthy Relationships Education for Developmentally Disabled & Learning Different Students" in Doylestown will use the grant to purchase a curriculum for students who are developmentally disabled and/or learning different to be used by 300 participants. The curriculum is specifically designed for this underserved population to increase their knowledge about healthy relationships, boundaries and consent, and to decrease domestic abuse.
Bristol Riverside Theatre will use the grant to support its ArtRageous Summer Theatre Arts Camp for at-risk youth in Bristol, PA. The camp stimulates critical and creative thinking in a structured environment. The goal is to build basic life skills and increase self-esteem and self-efficacy through the performing arts in a safe environment. More than half of the 60 participating students are from single parent families, and nearly 20% have a documented learning disability.
Bucks County SPCA's Humane Education and Outreach Resources in Lahaska interacts and educates youth throughout the county in multiple ways, including the Black Cat 5K/fun walk, Buckingham Peace Fair, Healthy Kids Day at the Upper Bucks YMCA, Movie Night at Veterans Park in Richland Township, and Autumn Alive in Quakertown. The grant funding will support resources that enhance and supplement these efforts to deliver 50 to 60 outreach opportunities to 1,800 participants.
Cancer Support Community Greater Philadelphia in Warminster will use the grant for the Kid Support & Straight Talk About Cancer program, a curriculum-based program to help kids up to age twelve learn about cancer, manage the stressors caused by cancer and gather support from other attendees. Kids are able to express fears and concerns in group activities facilitated by licensed mental health professionals. Straight Talk About Cancer also provides a Living with Loss Program for adolescents and teens who have experienced the loss of a loved one to cancer. 50 participants are supported by the program.
Family Service Association's Teen Center in Langhorne will use the funding to support peer interaction among Teen Center participants, who are teens without a close circle of friends in their schools or communities. They struggle to 'fit in' and have difficulty interacting with their peers. Other participants have issues within their families and feel isolated as they do not see or are not aware of similar circumstances among their classmates. 150 participants will gain insight regarding values through observation and interaction with other participants and with staff.
Hands Holding Hearts Summer Series will use the grant to support its annual bereavement summer camp in Langhorne. The camp helps children through the grieving process by bonding with other children through games and activities of healing. The bereavement summer series serves as a way for families to meet one another and begin to build a community of caring. Hands Holding Hands supports 200 participants who are dealing with loss and grief.
Heritage Conservancy's Student Explorer Backpack Program in Doylestown helps children develop a sense of wonder and appreciation for the natural world through physical activity and the chance to enjoy the out-of-doors programs in lower Bucks County. The Heritage Conservancy will use the grant to provide explorer backpacks, supply classrooms with unique learning tools, provide staff to lead environmental exploration programs for elementary students, and teachers to supplement science curriculum and conduct teacher and student surveys to determine satisfaction with programs and ways to enhance them. The program serves 150 participants.
Ivy Hill Therapeutic Equestrian Center's WOW (We're Outstanding Workers) Young Adult Job Skills Training and Job Placement Preparation program in Perkasie offers transitional work experience for special needs students aging out of the public school system. WOW students, working in pairs, learn skills to help them live and work as independent members of their community. Ivy Hill will use the grant to expand the WOW program and integrate it as a permanent service offering.
Libertae's Early Childhood Creative Arts Program in Bensalem supports the children of mothers who have substance use disorders and are at high risk of developing long-term emotional and behavioral problems. Libertae will use the grant for two programs that use creative expression to support appropriate behaviors among children. The Mommy and Me Ballet program allows for a strengthening of the parent/child bond through a creative learning environment that stimulates a sense of accomplishment in the child and a healthy lifestyle choice in the mother. A music therapy to the children addresses emotional, cognitive, and social needs and provides avenues for communication to those who find it difficult to express themselves in words.
Needlework Guild of America's Warm Coats for Children and Adolescents program in Warminster provided 85 winter coats to school-aged children and adolescents in the Bucks County area in 2017. Unfortunately, 85 coats did not fulfill the needs of all the children in the community. With the help of the grant, the Needlework Guild of America would purchase 156 winter coats from Operation Warm, ranging in size from a child's size 5 to an adult small/medium.
Ridge Crest in Sellersville will use the funding to provide music therapy to 32 young adults and children with intellectual developmental delays and complex medical needs. Participants will benefit from music therapy, which offers sensory stimulation, ways to express themselves, and opportunity to socialize with others. Soothing and calming music therapy will be provided to young adults and children at Ridge Crest by The Conservatory.
Camp Discovery in New Hope will use the grant to serve 20 female campers and 20 male campers. The camp provides compassion, caring, and companionship to children from single parent homes, foster care, and those who are working with an agency to rehabilitate their family relationships. Regardless of the sending agency, children attending Camp Discovery also come with great financial need. In some cases, due to their great emotional needs, other summer programs are not able to accept these children who require support with interpersonal relationships.
In addition to the grant awards, the Morris M. Davis Award is an award and $1,500 scholarship given annually to a student intern whose contributions to the community are judged to be an outstanding example. The award was presented to Ellie Manca of Doylestown, a Biobehavioral Health Major in the Penn State Schreyer Honors College. Ellie worked at the Mercer Museum through Foundations Community Partnership's Summer Youth Corps.
Foundations thanks its sponsors:
Platinum Sponsors
Theodora B. Betz Foundation
Bishop & Associates, Inc.
Centric Bank
Davis Trachtenberg, Inc.
The Carl Koenig Family
Merrill Lynch Doylestown Office
 Gold Sponsors
AXA Foundation
The Bernstein Family
William E. Boger, CPA
Bucks County Commissioners
Magellan Behavioral Health of PA, Inc.
Penn Community Bank
Charles H. Rose, CLU, CHFC
Ian Rose, FC
Dr. Joseph Stella & Family
The Center for Neuropsychology & Counseling, PC
Tilley Fire Equipment Company
Silver Sponsors
Antheil Maslow & MacMinn, LLP
Bucks County Community College Foundation
Bucks County Herald
Catalyst Center for Nonprofit Management
The Conte Family
First Bank
Fulton Bank
Limor Goodman, PC
New Britain Developers LP
The Weldon Family
The Zagerman Family
Zateeny Loftus, LLP
Bronze Sponsors
309 Office Supply
Advanced Micro Computer Specialists, Inc.
Astro Dynamic Print & Graphic Services
Boucher & James, Inc., Consulting Engineers
The Bovino Family
Brody Public Relations
The Donnelly Family
Doylestown Deli
Doylestown Wealth Management
The Friedman Family
Mr. and Mrs. Thomas Hanna
Kershner Office Furniture
Dr. Nancy Miller and Family
J. Carroll Molloy Realtor
Ninety-Five North Marketing
The Pasternak Family
The Present Company, LLC
Roman Delight – Fountainville
Rutherford's Camera Shop
Sportswear Plus
Stonewall Services, LLC
Streamline Payroll, LLC
The Weldon Family
Thompson Networks
Pictured: Caryl Stern speaking to audience.
Standing (Left to right): Ron Bernstein, Foundations Community Partnership; Amy Keiper Shaw, Hands Holding Hearts; Marian Beck, Ivy Hill Therapeutic Equestrian Center; Gerri Parrish, Family Service Association; Bob Duaime, Camp Discovery; Lisa Tordo, Needlework Guild of America; Jeff Marshall, Heritage Conservancy; Barbara Kohler, Ridge Crest; Qadriyyah Tongori, Bristol Riverside Theatre; Caryl Stern, President and CEO, UNICEF USA.
Seated: Nancy Wolf, Libertae; Tammy Oliver, A Woman's Place; Ellie Manca, Morris Davis Scholarship Awardee; Natalie DiGiacomo, Bucks County SPCA; Beth Cribb, Cancer Support Community Greater Philadelphia
Media Contact:
Beth Brody, Brody PR
908-295-0600
beth@brodypr.com