FCP Provides Grants to 12 Bucks County Non-Profits at 18th Annual Partnership in Youth Services Awards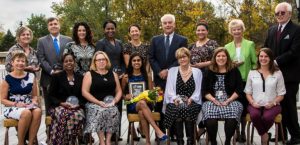 Doylestown, PA (October 26, 2016) – Over 175 community service leaders, non-profit organizations, and local governmental leaders attended the Foundations Community Partnership "Partnership in Youth Services" luncheon ceremony held at the Doylestown Country Club in Doylestown on October 20. This year the event honored 12 non-profit community programs in Bucks County that are making a difference in the lives of local children and their families with monetary grants of $3,000 each.

The event's keynote speaker was Maari Porter, Executive Director of the Philanthropy Network Greater Philadelphia, the region's membership association for organizations and individuals active in philanthropy.
"The challenge we have is that philanthropy, public and private sectors are too fragmented to address the issues we have in this region," said Porter. "Our role is helping to connect foundations, non-profits, government and others in working together to solve community problems. We need to be clear about the issues we're trying to solve and the initiatives we're trying to fund."
Foundations Executive Director Ron Bernstein, Bucks County Commissioner Diane Ellis-Marseglia and Dr. Richard Coe of the Foundations Board presented plaques and checks to the 12 local non-profit organizations. Among the community programs receiving grants were:
Albert Schweitzer Elementary Parent Resource Center (Levittown)
The Albert Schweitzer Elementary Parent Resource Center will provide a safe place where families can gather information and materials that will help improve their quality of life. Expected to serve over 450 children, the parent resource center will address the social, emotional and academic concerns that children experience in the school environment.
Bucks County Youth Center – Adventure Based Challenge Program (Doylestown)
The Bucks County Youth Center operates a detention center for youth between the ages of 10 and 18 who are under the authority of the Bucks County Juvenile system, as well as a community based residential service unit, which offers individual, group, and family counseling.  The grant will support an Adventure Based Challenge program aimed at reducing recidivism in moderate to high-risk youth offenders.
Bethany Christian Children's Services – Safe Families for Children (Elkins Park)
Bethany Christian Children's Services "Safe Families for Children" program serves parents and their children who are experiencing a short-term crisis in the Lower Bucks County region. The program offers early intervention, child abuse prevention, and family support and stabilization.
Family Promise of Lower Bucks – Childcare for Homeless Families (Tullytown)
Family Promise of Lower Bucks works one-on-one with homeless families. The grant will help Family Promise of Lower Bucks provide child care for families not yet eligible for services through Bucks County subsidies, which will enable their parents to actively seek employment.
Lily's Hope Foundation – Packages of Hope for Bucks County Families (Coopersburg)
Lily's Hope Foundations supports families with babies in Neonatal Intensive Care at Grand View Hospital in Sellersville and St. Mary Medical Center in Langhorne. Funding from this grant will be used to purchase supplies for their Packages of Hope, which are given to NICU families in Bucks County.
Penn Foundation – Camp Mariposa (Sellersville)
The Penn Foundation provides behavioral health and wellness services to address the mental health, substance use, and intellectual disability needs of individuals and families in our community.  This grant will support Camp Mariposa, an addiction prevention and mentoring program for children affected by a family member's substance abuse.
The Baby Bureau (Warminster)
The Baby Bureau provides Baby Bundles of gently used and new clothing and necessities to underserved moms and their babies in Bucks County through partnerships with St. Mary's Children's Clinic and Hospital, Doylestown Hospital and Child, Home & Community. With the help of this grant, The Baby Bureau hopes to donate 200 Baby Care Kits within a year and plans to increase their outreach by partnering with new social service providers in Bucks County.
Advocates for Homeless and Those in Need (Fairless Hills)
Advocates for Homeless and Those in Need serves the homeless population, as well as those on the verge of homelessness, including families who need emergency shelter, and otherwise might be living in their car or on the street. This grant will help to increase the number of emergency shelter nights provided in a hotel setting, and fund car repairs so that families can get to their jobs, doctors' appointments, the food pantry, and the laundromat.
Bucks County Audubon Society – Head Start Science Enrichment Program (New Hope)
Bucks County Audubon Society at Honey Hollow partners with the Bucks County Intermediate Unit's Head Start Program to bring high-quality, hands-on science to pre-school children from low-income areas that might otherwise not have these opportunities. This grant will help the Bucks County Audubon Society bring the Head Start Science Enrichment Program to 170 children.
BCCC Foundation – Kids on Campus Scholarships for At-Risk-Youth (Newtown)
Kids on Campus is a large-scale summer camp on the Newtown campus of Bucks County Community College, which offers specialized sessions in sports, theater, cooking, engineering, wilderness survival, and computers for students ages 5-16. The grant will allow Kids on Campus to offer scholarships to at-risk youth who would not be able to attend camp without financial assistance.
 Refuge Childcare Academy – Project Thrive – After School Program (Bristol)
Refuge Childcare Academy is a nonprofit State licensed day care provider offering high-quality programs to children of diverse ethnic, cultural, and socio-economic backgrounds. This grant will support "Project Thrive" a 44-week after school program for school-aged children to participate in 2 to 2 ½ hours of daily instruction, including homework help, math and science instruction, computer skill development, and exploration and learning through cultural arts.
Habitat for Humanity of Bucks County – Engaging Lower Bucks in the Mission of Habitat Bucks (Langhorne)
This year Habitat for Humanity of Bucks County opened the Langhorne ReStore, which offers meaningful volunteer opportunities for youth and diverse learners in lower Bucks County ages 14 – 25. The grant will help expand the youth engagement program at the Langhorne Restore and Habitat for Humanity build sites in Lower Bucks County to include 50 to 100 youth and those with special needs.
In addition to the grant awards, the Morris M. Davis Award is an award and $1,500 scholarship given annually to a student intern whose contributions to the community are judged to be an outstanding example. The award was presented to Pooja Gandhi from Warminster. She is majoring in Speech Therapy at LaSalle University and worked at Big Sisters of Bucks County in Jamison through Foundations Community Partnership's Summer Youth Corps.
"Foundations is proud to offer community grants for the 18th year in a row through our Partnership in Youth Services Program," said Bernstein. "We are gratified to be able to support so many Bucks County non-profits that are fulfilling the health and human service needs of our young people and their families."
Sponsors of the program included:
Platinum Sponsors
Theodora B. Betz Foundation, Bishop & Associates, Inc., Davis Trachtenberg, Inc., The Carl Koenig Family, Merrill Lynch Doylestown Office.
 Gold Sponsors
AXA Foundation, The Bernstein Family, William E. Boger, CPA, Penn Community Bank, Limor Goodman, PC, Magellan Behavioral Health of PA, Inc., Charles H. Rose, CLU, CHFC, Ian Rose, FC, Dr. Joseph Stella & Family, The Center for Neuropsychology & Counseling, PC, Tilley Fire Equipment Company.
Silver Sponsors
Antheil Maslow & MacMinn, LLP, Bucks County Bank, Bucks County Commissioners, Bucks County Herald, Catalyst Center for Nonprofit Management, The Conte Family, Fulton Bank, New Britain Developers LP, J. Douglas Riva, Thompson Networks, The Zagerman Family.
Bronze Sponsors
309 Office Supply, Advanced Micro Computer Specialists, Inc., Astro Dynamic Print & Graphic Services, The Alexander Family, Boucher & James, Inc. Consulting Engineers, Brody Public Relations, Bucks County Community College Foundation, Doylestown Deli, Doylestown Wealth Management, The Friedman Family, Mr. and Mrs. Thomas Hanna, In The Bag Catering, Kershner Office Furniture, Dr. Nancy Miller and Family, J. Carroll Molloy Realtor, Ninety-Five North Marketing, The Pasternak Family, The Present Company, LLC, Sportswear Plus, Stonewall Services, LLC, Streamline Payroll, LLC, The Weldon Family, Zateeny Loftus, LLP.
Media Contact:
Beth Brody, Brody PR
908-295-0600
beth@brodypr.com
*Pictured:
Back row, left to right: Heather Bert, Bethany Christian Services; John Corr, Bucks County Youth Center; Danielle Mancini, Albert Schweitzer Elementary; Nikki Farrior, Advocates for the Homeless and Those in Need; Maari Porter, Executive Director, Philanthropy Network of Greater Philadelphia; Ron Bernstein, Executive Director, Foundations Community Partnership; Kristine Maxwell, Family Promise of Lower Bucks; Sr. Marie Bambrick, Lily's Hope Foundation; and John Kunes, Lily's Hope Foundation. Front row, left to right: Florence Kawoczka, Habitat for Humanity Bucks County; Angela Cary, Refuge Child Care Academy; Stacy Carr-Poole, Bucks County Audubon Society; Pooja Gandhi, FCP Summer Youth Corps Intern, LaSalle University; Fran Wasserman, The Baby Bureau; Jennifer King, Penn Foundation; and Jenny Salisbury, Bucks County Community College.