Foundations Provides Grants to 12 Bucks County Non-Profits Through Partnership in Youth Services Awards
Doylestown, PA (October 12, 2012) – Over 150 community service leaders, non-profit organizations, and local governmental leaders attended the Foundations Community Partnership (www.fcpartnership.org) "Partnership in Youth Services" luncheon ceremony held at the Doylestown Country Club in Doylestown yesterday. The event honored 12 non-profit community programs in Bucks County that are making a difference in the lives of local children with monetary grants of $3,000 each.
The keynote speaker was Gerald Chertavian, founder of Year Up and author of The New York Times bestselling book A Year Up. An intensive one-year training and education program that serves low income youth ages 18-24, Year Up provides the technical, professional and communication skills needed to empower urban young adults to make successful transitions to careers and higher education. Gerald is dedicated to closing our nation's Opportunity Divide and his commitment to working with urban youth spans more than 25 years.
"We try to bridge the opportunity divide by preparing young people with barriers to enter a job market starving for skilled workers," said Chertavian, "Our journey is deeply about economic justice and helping urban young adults overcome even the toughest circumstances."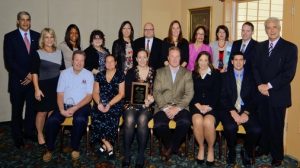 Foundations executive director Ron Bernstein, keynote speaker Gerald Chertavian, Bucks County Commissioner Diane Ellis-Marseglia and Dr. Joseph Stella, Chairman of the Foundations Board presented plaques and checks to the 12 local non-profit organizations.  Among the community programs receiving grants were:
Bristol Riverside Theater, Bristol
The grant will support Artrageous, a unique summer program for at risk youth that stimulates creative thinking in a fun and structured environment, building basic life skills and increasing self-esteem through the performing arts. Artrageous aims to deter negative behavior, increase self-efficacy, and teach creativity and imagination as a means of boosting the ability to improve impulse control.
Big Brothers/Big Sisters, Jamison
Bristol Community Based Mentoring Initiative (BCBMI) will use the grant to support mentoring for at-risk youth, ages 6 – 17 in Bristol Borough and Bristol Township. Youth residing in this area face socioeconomic risks that make them more likely to have academic, behavioral and emotional problems than children in other communities across Bucks County. School personnel and other community agencies identify students struggling academically or experiencing social difficulty who could benefit from a supportive relationship with an adult mentor.
The Peace Center, Langhorne
The Peace Center's Bully-Target Support Group supports the targets of bullies and their families through a weekly group meeting, which helps to empower children facing challenging situations. Participants learn skills such as how to set boundaries and define personal space, respond assertively in a bullying situation (vs. passively or aggressively) work through emotions, and respond versus react.
Camp Discovery, New Hope
Camp Discovery is a one-week, overnight camping program for children 8 to 11 years of age from Bucks County who experience neglect and abuse. The camping activities involve regular camping fun along with a special Discovery Class, which includes discussions on feelings and getting along with others. Each camper is paired with a teenage volunteer to act as counselor and buddy for the week.
Ivy Hill Therapeutic Equestrian Center, Perkasie
The grant will benefit Ivy Hill Foundation's equestrian therapy program for children and teens, which matches horses to riders with differing abilities. The program utilizes adaptive equipment and holistic lessons such as riding, grooming, communication, and social interaction. Each child's existing occupational, physical, or speech therapy goals are integrated with horsemanship.
BARC Developmental Services, Holicong
The grant will support BARC's Friendship Circle Therapeutic Support Groups for infants and toddlers. These groups are designed to support children with developmental delays and intellectual disabilities in a warm and caring environment where emphasis will be placed on strengthening sensory motor skills, language development and socialization skills.
NOVA, Jamison
NOVA will use the grant to provide training on mandated reporting of child abuse for professionals in Bucks County, who play a vital role in identifying and preventing child abuse. This training identifies the role and responsibility adults play in the prevention, protection and intervention of child abuse and helps them define the categories and types of child abuse, identify signs and symptoms of child abuse; understand the responsibilities of a mandated reporter; and know how to support a disclosure of child abuse.
Bucks County Links, Doylestown
The grant will benefit the Nubian Court Project of Bucks County Links, which is designed to address the needs of economically disadvantaged girls who lack exposure to arts, cultural and esteem building activities. Recognizing the value of the cognitive and affective intelligences that are represented in the visual and performing arts, the young ladies will be given opportunities to participate in a wide range of culture and esteem-building activities that will provide them with the knowledge, skills and tools for success in schooling and life long experiences.
Poverty Resolutions, Furlong
The purpose of this project is to educate students and increase their awareness of global poverty and understanding of other cultures. Following educational presentations, students will be actively engaged in a service project to help those living in poverty. The service project will provide students with educational opportunities, improve attitudes and behavior toward volunteerism and service, and develop a sense of empowerment and the ability to enact change.
Christ's Home, Warminster
The Teen Mother and Baby Program is a program for young teen moms who have been rejected by their family or violated their foster care placement due to a pregnancy. The only program of its kind in Bucks County, these young ladies are taught and mentored in life skills such as money and home management, self-care, and accessing community services so they will be able to care for their children's physical, mental, and emotional needs.
Girl Scouts of Eastern Pennsylvania, Lower Bucks
The grant will support the Funded Troop Program in Bucks County. Funded Troops enable girls from underserved communities to participate in Girl Scouts' leadership development programming free of charge. At meetings, girls participate in the Leadership Journeys curriculum, which engages them in a coordinated series of cooperative, girl-led activities that help them cultivate skills and attitudes conducive to leadership.
Central Bucks High School South and Central Bucks High School West, Doylestown
As part of anti-bullying and inclusivity education efforts at Central Bucks South and Central Bucks West, nationally-recognized speaker Dr. Michael Fowlin will present a student assembly at each school, "You Don't Know Me Until You Know Me." Following this assembly, students will use advisory time to engage in a series of corresponding lessons that include small group discussion and role-play activities to engage students in an exploration of the negative effects of bullying and ways that each student can take an active role in creating a safer more positive school environment.
The Morris M. Davis Award is an award and $1,250 scholarship given annually to a student intern whose contributions to the community are judged to be an outstanding example. The award was presented to Fairless Hills resident Danielle Wagner who worked at Special Equestrians in Warrington through Foundations Community Partnership's Summer Youth Corps.
"Foundations is proud to offer community grants for the 14th year in a row through our Partnership in Youth Services Program," said Bernstein. "It is very rewarding to be able to support the Bucks County non-profits that are fulfilling the health and human service needs of our young people."
Pictured:
Standing (left to right): Gerald Chertavian, keynote speaker; Diane Ellis-Marseglia, Bucks County Commissioner; Maureen Streeter, Membership Director, Girl Scouts of Eastern Pennsylvania; Sara Accardi, Institutional Giving Coordinator, Bristol Riverside Theatre; Kim Fraites-Dow, Chief Development and Marketing Officer, Girl Scouts of Eastern Pennsylvania; Dr. John Pfeiffer, Director, Early Intervention & Development, BARC Developmental Services; Mandy Mundy, Director of Education and Training, NOVA; Melodie Gardner, Chair, Fund Development Committee, The Links Bucks County Chapter; Barbara Simmons, Executive Director, The Peace Center; Brian Caughie, House Principal, Central Bucks High School West; Ron Bernstein, Executive Director, Foundations Community Partnership
Seated (left to right): Bob Duaime, Vice President and Treasurer, Camp Discovery; Jennifer Ashley, Executive Director, Ivy Hill Therapeutic Equestrian Center; Danielle Wagner, Morris M. Davis Award recipient; Jim McGovern, Executive Director, Christ's Home for Children; Ursula Raczak, Executive Director, Big Brothers/Big Sisters of Bucks County; Matthew Jones, Managing Director, Poverty Resolutions, Inc.
Sponsors of the program included:
Bank of America, Theodora B. Betz Foundation, Bishop & Associates, Inc., Davis Trachtenberg, Inc., First Niagara Bank, The Carl Koenig Family, Merrill Lynch Doylestown Office, Universal Health Services, AXA Foundation, The Bernstein Family, William E. Boger, CPA, Catalyst Center for Nonprofit Management, First Savings Banking Insurance Investments, Magellan Behavioral Health of PA, Inc., Charles H. Rose, CLU, CHFC, Dr. Joseph Stella & Family, Antheil Maslow & MacMinn, LLP, Advanced Furniture Services Group, Bucks County Herald, The Center for Neuropsychology and Counseling, County Builders, Inc., Limor Goodman, PC, J. Douglas Riva, Ronald J. Smolow, Attorney At Law, D.E. Thompson Family, LLC, Thompson Networks, Advanced Micro Computer Specialists, Inc., Barb-Lin Carpet One, Brody Public Relations, Bucks County Bank, Bucks County Community College Foundation, Bucks County Glass, Doylestown Travel Agency, Inc., The Earnshaw Family, The Friedman Family, Mr. and Mrs. Thomas Hanna, In The Bag Catering, J. Carroll Molloy Realtor, 95 North Marketing & Design, The Pinkus Family, The Present Company, LLC, Stonewall Services, LLC, Tilley Fire Equipment Co. Inc., David Velasco Salon, The Weldon Family, The Zagerman Family, and Zateeny Loftus, LLP.