Greetings from Tobi Bruhn, Incoming Executive Director
It feels rather strange to write words of welcome from my home office during the COVID-19 worldwide pandemic and a time of social distancing. Nevertheless, I'm thrilled to be joining Foundations Community Partnership and to provide some background information so that we may begin to get acquainted.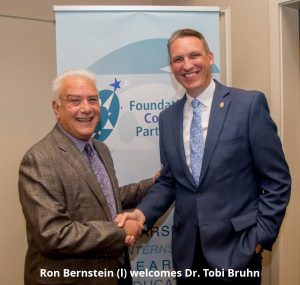 While I already had the pleasure of meeting and working with some of you in my previous role at Bucks County Community College, I'm pleased to share with you my profile on our
web site
 and 
LinkedIn
. Further, I look forward to learning more about your organization and listening to how we can best support your efforts through our programs and grantmaking process.
As most of you know, FCP has supported the behavioral health and human service needs of children and young adults in Bucks County ever since Ron Bernstein founded the non-profit organization in 2007. Since then, our non-profit partners received more than $5 million through grants and technical assistance. In addition, FCP provides scholarship support to all Bucks County public high schools and technical schools, subsidizes service-learning internships for college students, underwrites community education programs, and supports behavioral health education and research.
My being brought on board to FCP will not change any of the program-related aspects of the organization. But rather my role is to work with the Board and great team to further enhance our remarkable programs, ensure their funding, and continue the collaborative partnerships as well as establish new ones while highlighting the crucial work we do together in our community. It is exciting to me knowing how embedded FCP is in Bucks County's non-profit community, and how committed the Board and my colleagues are to invest in innovative approaches and solutions that impact so many people in our community.
I feel honored to join Foundations Community Partnership as its new Executive Director and look forward to helping to write the next chapter of the organization's remarkable history. I thank the Board of Directors for this opportunity, and Ron for his vision and leadership in shaping this organization as well as ongoing mentorship through this transition.
Finally, the entire FCP team looks forward to partnering with you as we continue to advocate for Bucks County's youth. I look forward to connecting with you soon, either via Zoom, phone or, hopefully, in person. In the meantime, please remain safe and healthy during this difficult time while continuing to serve and advocate for your clients. Remember that #WeAreInThisTogether.
Sincerely,
Tobi Bruhn, Ed.D., CFRE
Executive Director