FCP Proudly Awards College Scholarship Awards to 19 Bucks County H.S. Seniors in 2017
Doylestown, PA (June 6, 2017) – Foundations Community Partnership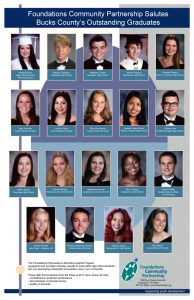 has awarded scholarships to 19 Bucks County high school seniors through its annual Partnership in Education program this month. The Foundations Partnership in Education program recognizes the achievements of local Bucks County public and technical high school seniors for their demonstrated community service, commitment to academic performance, and quality of character. Students are nominated to receive the award by their guidance counselor or a member of the school's administration.
Ronald Bernstein, Executive Director of Foundations Community Partnership presented checks for $1,000 to:
1. Bensalem resident Matthew Corbett at Bensalem High School (attending Fairleigh Dickinson)
2. Bristol resident Dakota Luna at Bristol-Boro Sr. High School (attending Penn State University)
3. Doylestown resident Sara Donnelly at Central Bucks High School East (attending University of Delaware)
4. Chalfont resident Anthony Scarpone-Lambert at Central Bucks High School South (attending University of Pennsylvania)
5. Doylestown resident Ashlynn Gunn at Central Bucks High School West (attending Arcadia University)
6. Newtown resident Allie Weiner at Council Rock High School North (attending Temple University)
7. Holland resident Ellen Kravchenko at Council Rock High School South (attending Duquesne University)
8. Levittown resident Amanda Dingley at Harry S. Truman High School (attending University of Delaware)
9. Sellersville resident Mariah Bryson at Upper Bucks County Technical School (attending Valdosta State)
10. Trevose resident Andrea Mumper at Bucks County Technical High School (attending University of Pittsburgh)
11. Morrisville resident Shanice Snead at Morrisville High School (attending Lincoln University)
12. Levittown resident Nora Okwara at Neshaminy High School (attending Columbia University)
13. New Hope resident Hannah Reszka at New Hope-Solebury High School (attending Georgia Institute of Technology)
14. Ferndale resident Michael Creighton at Palisades High School (attending Villanova University)
15. Perkasie resident Kaitlyn Moran at Pennridge High School (attending Drexel University)
16. Yardley resident Benard Cutrone at Pennsbury High School (Attending Penn State University)
17. Quakertown resident Madeleine Neiman at Quakertown Community High School (attending Gettysburg College)
18. Huntington Valley resident Jessica Lopez Arrieta at William Tennent High School (attending Philadelphia University)
19. Doylestown resident Daniel Pfeiffer at Middle Bucks Institute of Technology (attending Temple University)
Many of the recipients of the Foundations Partnership in Education program are also being recognized as a part of their school's commencement activities or other ceremonies to honor outstanding students. Proceeds of the Partnership in Education award may only be used for educational purposes, including payment of college tuition, books, and related expenses.
"Our Partnership in Education program supports high school students who are developing meaningful roles in the community and working toward positive change as they enter college," says Bernstein. "Our scholarship recipients have been active in community service and we encourage them to continue their good works."
For more information on the Partnership in Education program please call Foundations Community Partnership at 267-247-5584 or visit fcpartnership.org.